Internet School Experimental System - iSES
Note: The support with written texts, software, news in hardware is to be found on www page (http://www.ises.info/old-site/) - (sorry only in Czech).
Support for ISES
We have concentrated in the course of the ISES development on the support both for teachers using the system at schools and also for other users. The organization of schooling for teachers of ISES in computer laboratory is a regular event, as well as the transferring of news in development of the system ISES. For these ends, the detailed instruction book is available, the database of a great number of experiments, some of them with the measured typical data and instructions for measurements, covering different levels of schools, different syllabi have been devised and published. These experiments are constantly collected and disseminated.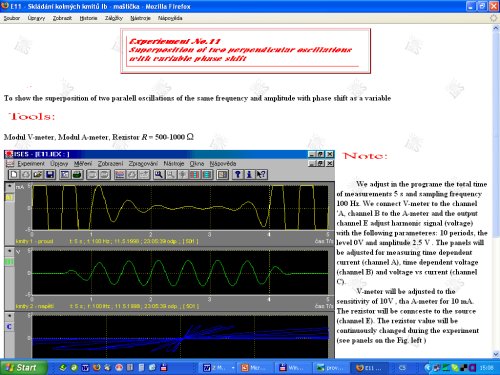 Example of the database element of the experiment of Superposition of two perpendicular oscillations
---