Meteorological station in Prague
Experiment
The access to the remote experiment Meteorological station in Prague across the Internet is through arbitrary web browser (MS Internet Explorer, Firefox, Opera, Netscape,..), which enables Java support. Java must be installed (free download from www.java.com) and active.
Choose "Run Experiment" from menu of all remote experiments on our web page by the clicking the link. Maybe here will be a short delay caused by the delay in connection of your computer to the corresponding server and data loading. Be patient. After some time that may vary according to the speed of your connection, you can see the actual values of the temperature in Prague, the pressure and the intensity of sunshine, and the history for the last 7 days (Fig. 2).
Of course, you can:
Find the graphs for other desired days by selection "Choose different record time" and write the corresponding begin and end of the demanded time interval. Due to the capacity of the net and the server only time intervals less than 194 days are accessible.
After selecting the demanded time interval, click on the "Graph" control. The computer will draw the graphical representation of the selected quantity in this time interval.
If you want the data for the next processing, click to one of the controls "Values to table in new web page" (optimised for processing in Excel) or "Values to table in new web page - text" (other programs in .txt format). Computer will generate a new web page, with the table of the desired data. You can copy this data through clipboard to Excel or other table processor or save it as *.txt file to your computer.
The processing possibility of the collected data, the temperature, the barometric pressure and the intensity of sunshine are manifold. It is possible to access the recorded data form 3. 5. 2003, the date we launched this remote experiment. The record is not fully continuous in the whole time intervla (server downs, reconstructions of building, repair of the server etc.). More experimentators (clients) can be connected to this experiment at a time. You can see their addresses in the field "Connected users".
Our meteorological data can be used to learn:
How to process and evaluate the data,
How to plot their representations in different environments and to find reasonable correlations. It is e.g. possible to compare the average summer temperatures in 2004, 2005, 2006, 2008 or compare our data with the official data from the Prague meteorology station (or other stations in the Czech or Slovak Republic).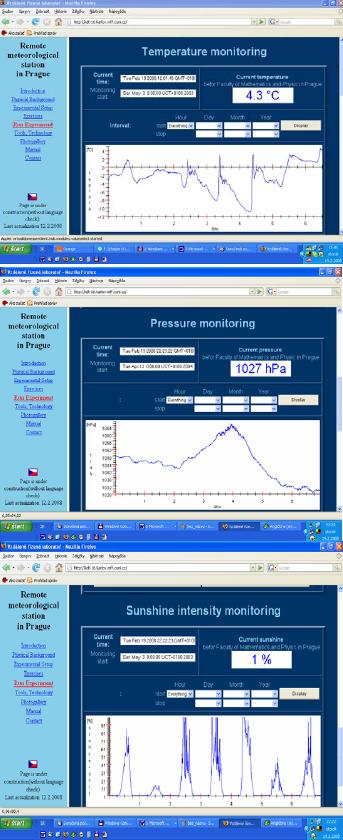 Figure 2 The front www page of the experiment Meteorological station in Prague, with: the actual values of (a) the temperature, (b) the pressure and (c) sunshine intensity - the actual values and the last seven days data in Prague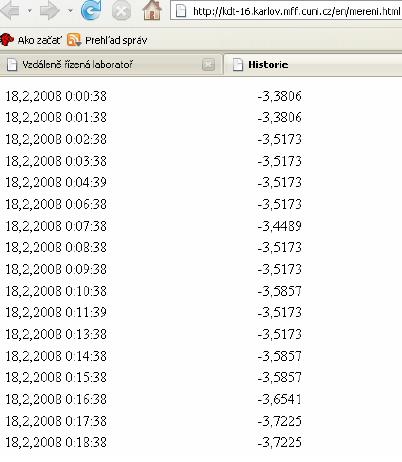 Figure 3 Example of the transfer of the measured data of the temperature; the first column the date and time, the second column the temperature in 0C
---